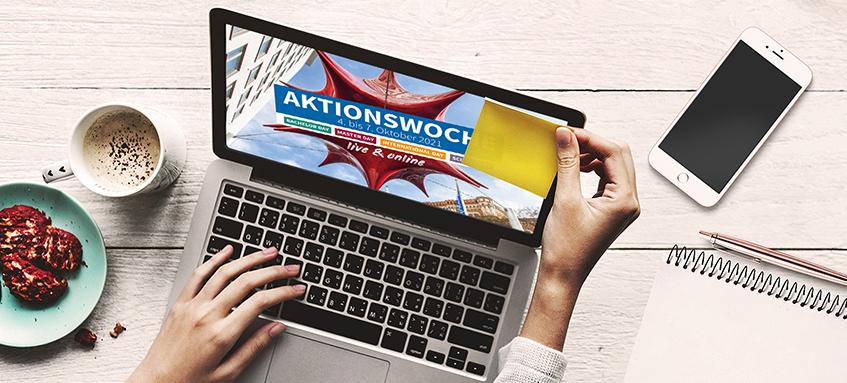 WiWi Aktionswoche 2021 - live & online
Welcome to the new semester!

Procedure of the WiWi Aktionswoche 2021
We will start the semester together with all the information you need. The WiWi Aktionswoche 2021 will take place with an hybrid approach: From October 4 to 7, informative videos will be published daily to help you get started with your studies. These videos will be online all week and you can watch them at any time. You can see a list of the videos in the programme for each day below. The week is divided in Bachelor Day, Master Day, International Day and Science Day. You also can participate at the Welcome Meeting in HS1 or watch it online. The award ceremony of the the Oskar Morgenstern Medal will be streamed.
Chat consultation with MS teams
Every day, you can also participate in a chat consultation via MS Teams. Each consultation focuses on a topic in the videos - such as semester planning. However, if your question doesn't fit in exactly, that's no problem either. Simply type your questions into the chat and our experts will answer them verbally or in writing, or refer you to the right person if necessary. The dates of the chat consultations can be found in the programme.
For each chat consultation, a meeting is created in MS teams. You can join this meeting as a guest with a link. No account is necessary! With this guest link you can ask questions. Please use preferably the web browser Chrome. You find the link to the chat consultation with the programme of each day.
If you have any questions, please contact oeffentlichkeitsarbeit.wiwi@univie.ac.at.
Bachelor Day - 4 October 2021
Videos for a successful semester start (German)
Vorstellung des

STEOP-Mentoring-Programms

Digitales Lernen

Lifehacks für dein Studium


Semesterplanung leicht gemacht:

Von der Planung bis zur Kursanmeldung

Mysterium Wahlmodul:

Was kann gemacht werden, was sollte vermieden werden?

Das ABC der Anerkennungen:

Vom Antrag zum Bescheid
Vorstellung der

Class of Excellence
Master Day - 5 October 2021
Welcome back and welcome aboard! We start with a orientation for new and continuing Master's students: prepare, connect, study, succeed!
Videos with all necessary information for your studies (English)
How to plan your master thesis

Organising and preparing your defence

How I chose my specialization

(IBW edition)

Master's programmes in Economics

Introduction to Uniport
International Day - 6 October 2021
Videos andall necessary information for your stay abroad

Auslandspraktika:

Anerkennungsmöglichkeiten, Erasmus+ Förderung (German)

Auslandsaufenthalte in Europa:

Erasmus+ Studierendenmobilität, Structured Master Mobility Programme "Think Business, Go International!" (German)

Außereuropäische Austauschprogramme und KWA:

Non-EU Student Exchange Program, Erasmus+ International Mobility und Kurzfristige Wissenschaftliche Auslandsstipendien (KWA) (German)

Blogpost: "How to Auslandssemester"?

(German)


ESN:

Erasmus Student Network (English)
Science Day - 7 October 2021
A day dedicated to research: We proudly present the Awarding of the fifth Oskar Morgenstern Medal.
Also learn more about PhD programmes, research funds and workshops.
Video on PhD and research.

Review
This was Aktionswoche 2019:
Video: Awarding of the Oskar Morgenstern Medal